Welcome to Minuteman Press Central of Edmonton, Alberta!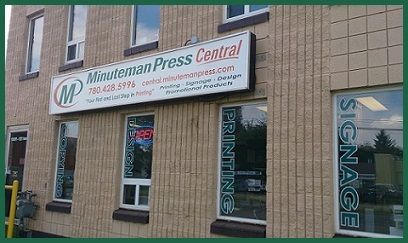 To get help on your next project or to request a quote, please click on the Request an Estimate button or send us an email at central@minutemanpress.com.
If you're ready to send your file, please click on the Send a File button (our website can accept large files). If you have any issues uploading your file, please contact us by phone or email.
We hope you enjoy your visit to our site. If there is anything we can do to further improve your experience, please let us know. We are always looking for ways to better serve our customers.
We're open Monday to Friday from 9am to 5pm (excluding holidays). UPDATE: During the COVID-19 pandemic, our store hours are 9:30am - 4:00pm Monday-Friday. Access to our building is at the back door only for this period of time; pre-paid pick ups only. Thank you for your cooperation!